
HOME

>
PRODUCTS
>
Spray Dryer
>
Centrifugal Spray Dryer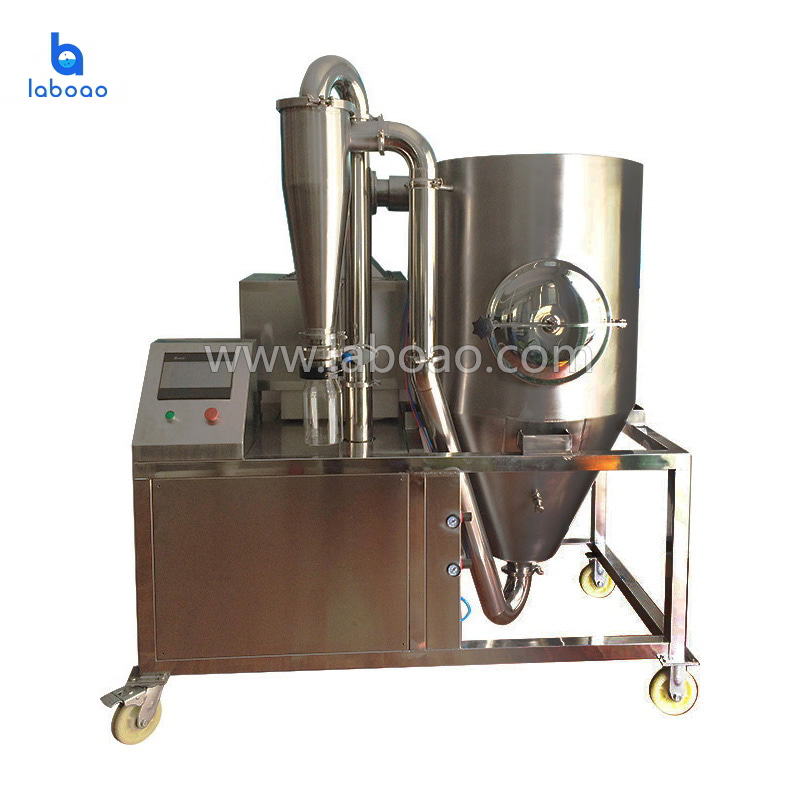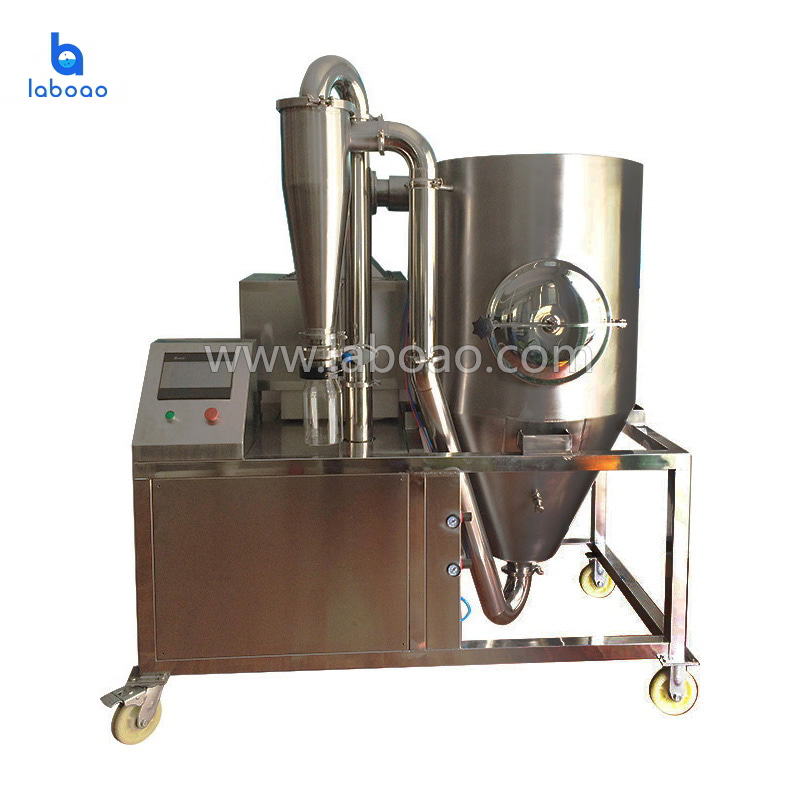 5kg Centrifugal Spray Dryer Machine
Spray drying is a method of producing a dry powder from a liquid or slurry by rapidly drying with a hot gas. This is the preferred method of drying of many thermally-sensitive materials such as foods and pharmaceuticals. A consistent particle size distribution is a reason for spray drying some industrial products such as catalysts. Air is the heated drying medium.
Model

LSP-5000

Brand

LABOAO

Port

Any port in China

Package

Plywood case package
Request Quotation
Chat Now
WhatsApp Chat

WeChat Chat
Download
VIDEO
DESCRIPTION
LSP-5000 spray dryer is a drying equipment suitable for the liquid material with low temperature and high viscosity, which has been improved many times on the basis of domestic and foreign spray dryers. The working principle is: cold air is filtered through the filter, then enters the heater, is heated to a certain temperature, and then enters the air distributor at the top of the spray tower, and the hot air spirally flows to the bottom of the tower. The liquid is pumped to the centrifugal atomizer at the top of the tower body, and the liquid is torn into extremely small mist droplets. The liquid droplets and the hot air are in parallel contact, and the heat exchange is fully performed. The water content is rapidly vaporized and evaporated, and dried in a very short time as a finished product. The finished product is separated by a cyclone and discharged, and the exhaust steam is discharged by an induced draft fan.

FEATURES
1. The equipment drying time is short, only need 5 seconds, the general effective ingredients will not be destroyed.
2. Spray tower diameter can adapt to a variety of materials to dry, inlet and outlet air temperature is adjustable air temperature, wide range of work.
3. Equipment configuration is complete, to meet the production process requirements from the maximum extent.
4. Simple operation, wide range of adaptation, no professional operators.
5. Unique inlet screw distributor, is the company's patent, to ensure that the tower in the circumference, the air flow is absolutely uniform down, to minimize the material sticky wall.
6. Advanced and convenient cleaning door, can facilitate the operation of workers, but also to ensure absolute sealing, so that the material is not sticky wall, the tower is equipped with a clean door, to facilitate all-round cleaning.
7. tower absolute mirror polishing, without any dead ends, one is to avoid sticky material, the second is to facilitate cleaning.
8. The inlet temperature is controllable and can fully satisfy the drying process of the material.
9. All pipes, cyclones are equipped with quick opening mouth.
10. Heater is improved into a U-tube form, to overcome the heating tube thermal expansion and contraction caused by weld cracks. U-shaped tube outside the shell, to avoid the air leakage between the pipe and the tube. Fins with aluminum alloy, improve the heat transfer coefficient and heat transfer efficiency.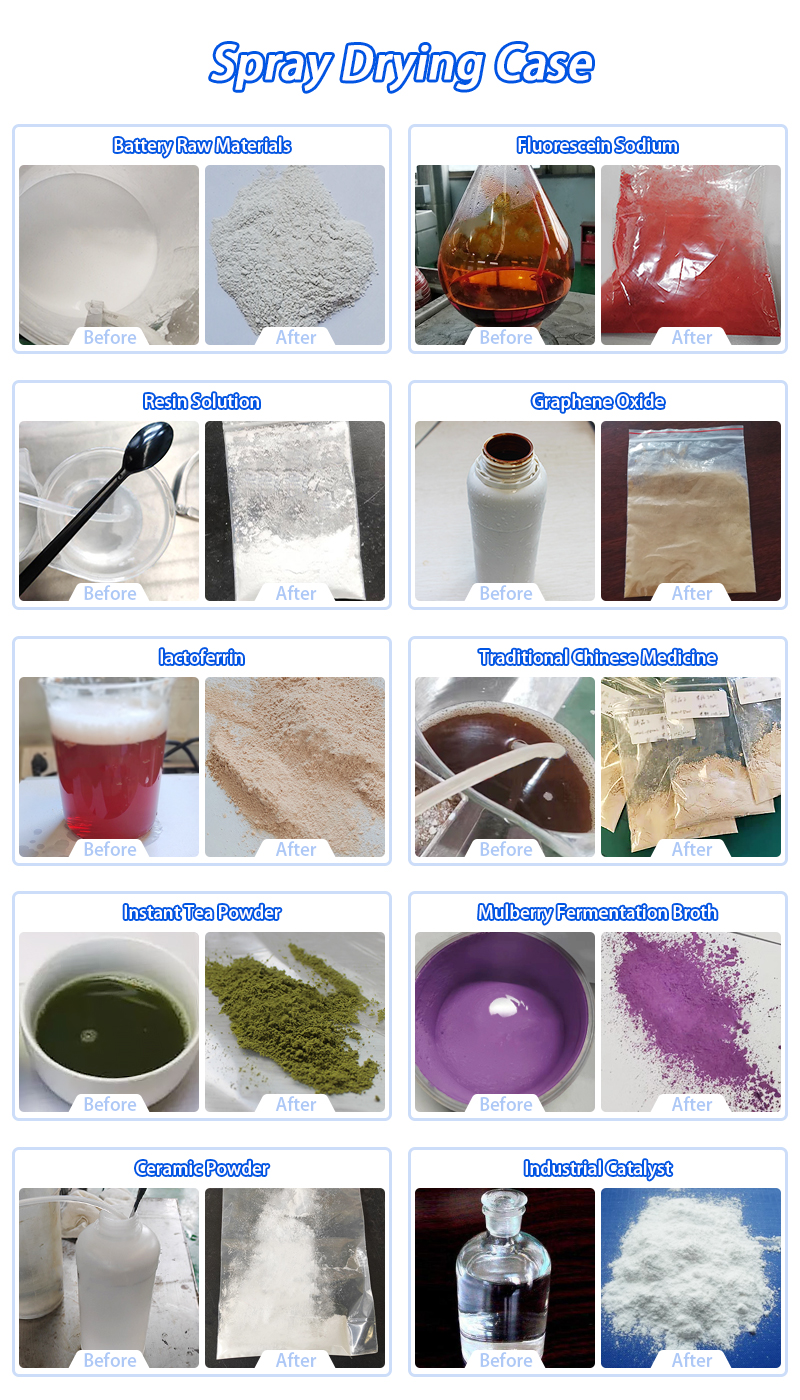 SPECIFICATIONS
| | |
| --- | --- |
| Model | LSP-5000 |
| Water evaporator capacity | 5kg/h |
| Heating power | 18KW |
| Inlet temperature range | 160°C~200°C |
| Outlet temperature range | 80°C~ 90°C |
| Heating temperature accuracy | ±1°C |
| Screen | LCD colorful screen |
| Weight | 300kg |
| Size | 1800 x 1500 x 2500mm (L x W x H) |
WHY CHOOSE US
Factory direct sales with competitive price.
Premium quality with CE & ISO certification.
Strong product OEM & ODM customization capability.
Promise production & on-time delivery.
Perfect after-sales service, free product accessories.
15 years of experience in R&D and production of centrifugal spray dryer machine.

OUR FACTORY
We have a standard production workshop and a complete production team. They always produce a serious and responsible attitude to produce each product. Our R&D team is made up of multi-aspects professional engineers such as design engineer,technology specialist ,qualified specialist and process control manager, etc. Our qualified specialists strictly realize the process comprehensive supervision based on our quality process control system, which contains products design, research and development, test, production, quality inspection and packaging.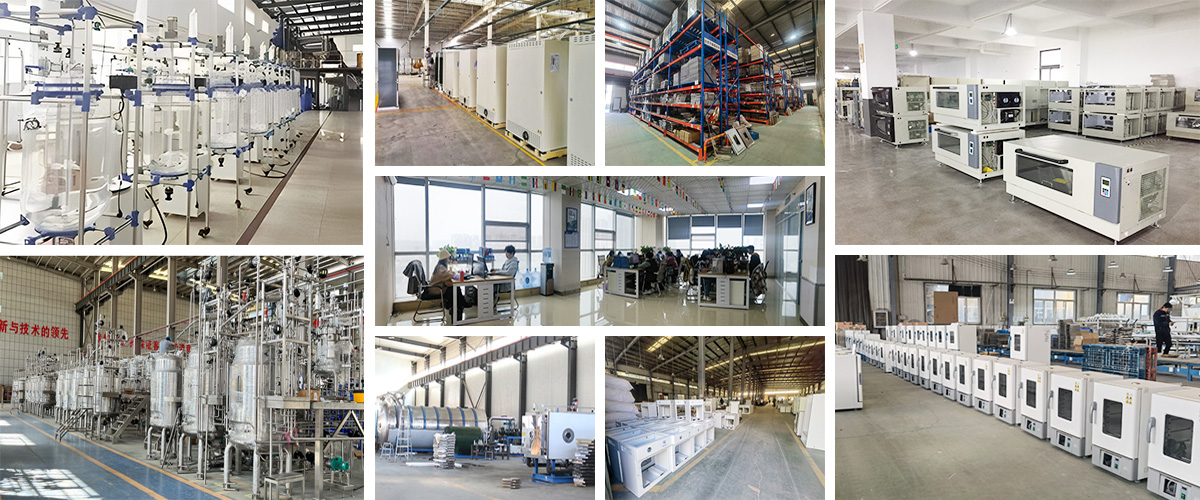 PACKAGING & SHIPPING
Our product packaging has been proven over the long term and we usually have plywood boxes or cartons with trays. We will arrange the appropriate packaging according to the weight and size of the goods. Of course, you can also choose the packaging form.

CUSTOMER CASES
Our laboratory instruments and equipment are used in many scientific laboratories, scientific research institutions, universities, hospitals, centers for disease control and other institutions, and are combined with many well-known biopharmaceuticals, new energy, electronics companies, food processing, environmental protection, etc. Enterprise cooperation, our stable and reliable products are exported to more than 120 countries around the world, and have been highly recognized by them, believe LABOAO, we grow together!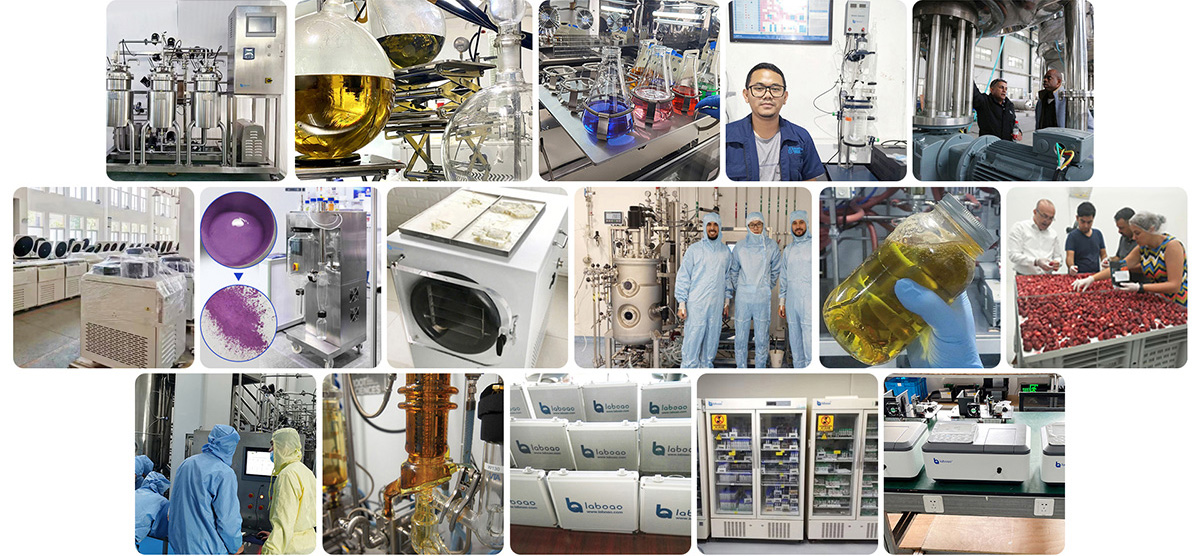 AFTER-SALE WARRANTY

Authenticity Guaranteed
We assure you purchase our products are 100% certified products.

24*7Hours Service
Provide 7*24 hours service telephone & support email to help you solve problems quickly.

Technical Support
Provide equipment installation, adjustment, operation training, etc.

1 Year Warranty
Free maintenance and accessories within warranty period(not caused by human factors).